Sourcegraph 3.40 release
Update as of May 31: Patch 3.40.1 has been released, which fixes the issue below. We recommend GitLab users upgrade to this patch. In the unlikely event you still see GitLab repositories missing, you can log out of Sourcegraph via GitLab and then log back in to refresh your OAuth token.
Update as of May 24: GitLab 15.0 no longer supports OAuth tokens that don't expire, which can cause authorization between Sourcegraph and GitLab to fail. We are working to fix compatibility with GitLab 15.0 (and support expiring OAuth tokens) in an upcoming patch.
Sourcegraph 3.40 is now available! Here are some highlights from this release:
Search your Python dependencies
Sourcegraph dependencies search now supports Python packages. You can now search through the Python dependencies of your repositories to easily identify the root cause of an error coming from the source code of a dependency or determine if any of your repository dependencies have a security vulnerability. We currently have support for poetry.lock and pipfile.lock files. Check out this example search on Sourcegraph Cloud.
Local navigation for the top 8 languages is now faster and more accurate
We previously improved navigation speed for Java code in Sourcegraph 3.39 by using tree-sitter. We're now using tree-sitter for Go, C#, Python, JavaScript, TypeScript, C/C++, and Ruby as well. Hover tooltips for local variables in those languages will now populate far faster and the results will be more precise, so you can navigate through files quickly and with more confidence in the tooltip information.
Batch Changes on Bitbucket Cloud (experimental)
Batch Changes is now available on Bitbucket Cloud as an experimental feature. Batch Changes was previously only available on self-hosted deployments of Bitbucket; now, you can programmatically define changes across all of your Bitbucket repositories.
Share links to Code Insights charts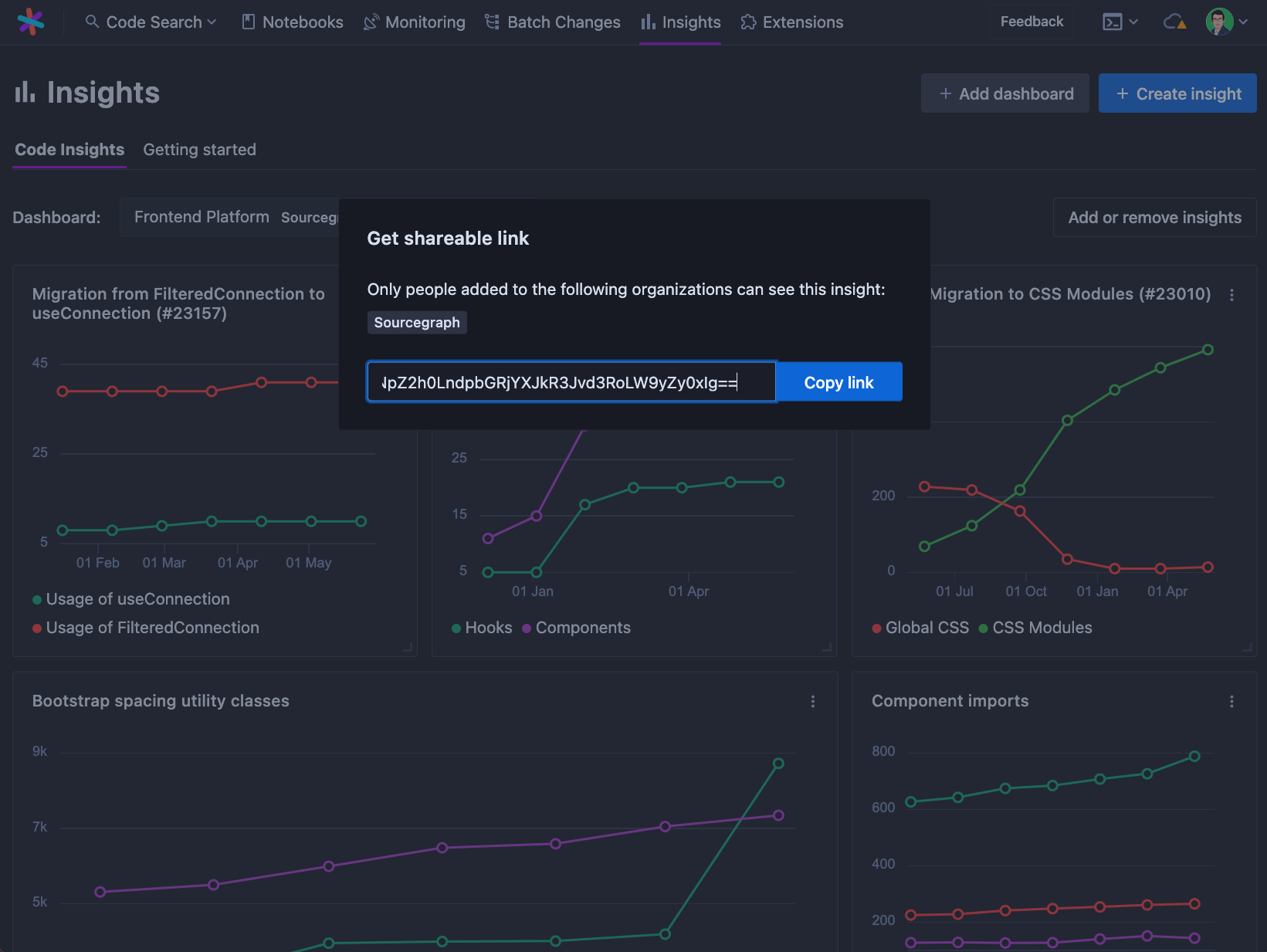 You can now link to individual Code Insights charts directly via the context menu on each insight and share individual insights with teammates rather than entire dashboards. When you click to share an insight, it will indicate which other groups of users can see the insight. To share an insight chart, it will need to be on at least one global or org-wide dashboard, and the share link will enforce the permissions of the dashboard(s) with the insight. You can read more about Code Insights link sharing in our docs.